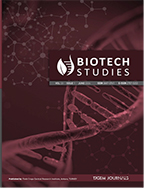 We have update our the journal!
'Biotech Studies' is the successor to the 'Journal of Central Research Institue for Field Crops' (Tarla Bitkileri Merkez Araştırma Enstitüsü Dergisi). OOn the basis of the experience and strengths of its predecessor, 'Biotech Studies' has been developed to create a truly international forum for the research communication in biotechnology science.

Biotech Studies is indexed in TÜBİTAK-ULAKBİM TR INDEX databases.

Biotech Studies Journal will start accepting articles from JANUARY 2020 onwards and the first issue will be published in JUNE 2020.
Biotech Studies