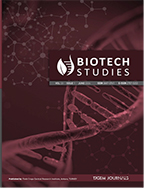 About Journal
Overview
''Biotech Studies" is the successor to the "Journal of Central Research Institute for Field Crops (Tarla Bitkileri Merkez Araştırma Enstitüsü Dergisi)''. On the basis of the experience and strengths of its predecessor, Biotech Studies has been developed to create a truly international forum for the communication of studies in biotechnological areas.
Biotech Studies is a refereed academic journal has been published biannually (June & December), free of charge and open accessed by Central Research Institute for Field Crops. It aims to address research and needs of studies within different areas of biotechnology.
The Journal publishes English language original research papers and critical review articles, on applied and scientific research.
Aims and Scope
"Biotech Studies" is the successor to the "Journal of Central Research Institute For Field Crops" which has been published since 1992. The journal publishes the articles on agrobiotechnology, plant biotechnology, food biotechnology, animal biotechnology, microbial biotechnology, environment biotechnology, industrial biotechnology and bioprocess engineering, applied biotechnology, omics technologies, system biology, synthetic biology, nanobiotechnology and bioinformatics.
Journal of Biotech Studies has been published twice a year (June&December). The articles involved in original research papers, critical review articles, short communications and scientific research of the journal are published in English. It is an international refereed journal and all papers which are submitted to the journal for publication will be scanned by TR Index from the first issue.
The journal is aimed for researchers and academicians who work in or are interested in the topics of research on biotechnology.