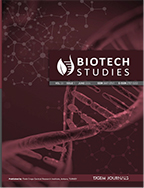 Biotech Studies
2004, Vol 13, Num, 1-2
THE DETERMINING OF THE DRY HERBAGE YIELD AND OTHER RELATED CHARACTERISTICS OF SOME COMMON VETCH (Vicia sativa L.) LINES IN THE GAP REGION CONDITIONS
1 GAP Eğitim Yayım ve Araştırma Merkezi , Şanlıurfa
2 Çukurova Tarımsal Araştırma Enstitüsü, Adana
3 Tarla Bitkileri Merkez Araştırma Enstitüsü, Ankara
-
The objective of this study was to determine the herbage, seed yields and related characters of the 19 common vetch (Vicia sativa L.) lines. The experiment was conducted in the cropping seasons of 2003 to 2004 and 2004 to 2005 in the GAP Region Agriculture Research Station in Akçakale county-Şanlıurfa province. The experiment was established in a complete randomized block design with three replications.

According to the two years average; days to flowering, steam length, dry herbage yield, biological yield, seed yield, 1000-seed weight and harvesting index were varied between 129-145 (days), 56-75 (cm), 429-567 (kg da-1 ), 735-1145 (kg da-1 ), 214-366 (kg da-1 ), 56.8-78.5 g and 27.74-40.15 (%), respectively.

The days to flowering was correlated positively and significantly with the dry herbage yield, but not with the seed yield. Moreover, the seed yield was associated significantly and positively with biologic yield, 1000 seed weight and harvest index. And, the 1000-seed weight is related significantly and positively related with the harvest index. Due to the superiority of the three common vetch lines (1, 12 and 13) for dry-matter yield and other three lines for grain yield over Farukbey-2001 control variety under the GAP conditions, it was concluded that these lines could be successfully grown as the winter crop in the region, and accordingly, they were selected for further breeding studies.
Keywords :

Common vetch (Vicia sativa L.), dry-herbage yield, seed yield, cultivar, correlation