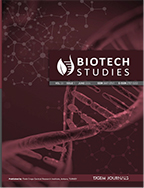 Biotech Studies
2003, Vol 12, Num, 1-2 (Pages: 072-085)
EFFECTS of DIFFERENT NITROGEN DOSES on SOME YIELD COMPONENTS in BREED WHEAT CULTIVARS
1 Cubuk Belediyesi Çubuk/Ankara
2 Ankara Üniversitesi, Ziraat Fakültesi, Tarla Bitkileri Bölümü, 06110 Dışkapı/Ankara
-
The research was conducted at Applying and Research farm of Faculty of Agriculture, University of Ankara in 2002. The aim of the study was to investigate effect of different doses of Nitrogen fertilizer on some yield components of bread wheat cultivars. Gün-91, İkizce-96, Mızrak, Uzunyayla ve Yakar-99 bread wheat cultivars were used as plant material in the experiment. Five doses of nitrogen (2, 4, 6, 8 ve 10 kg/da N) were used. Half of the N was applied during sowing and the rest of them were applied before shooting.

According to applied N doses, significant differences were obtained for plant height, spike length, spikilets number, grain number per spike, grain weight per spike. Whereas, tillers number per plant was not significant.

According to results, values were changed for plant height 83.60-97.36 cm, for spike length 66.06 –94.46 mm, for spikilets number 14.13-20.13, for grain number per spike 31.13- 47.20, for grain weight 1.11-1.86 g, for grain yield 265.00 - 441.66 kg/da, for thousand seed weight 34.53 - 38.67 g, and harvest index 34.8 - 38.8 %.
Keywords :

Bread wheat, nitrogen doses, grain yield