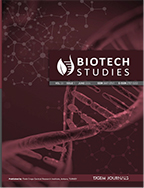 Biotech Studies
2002, Vol 11, Num, 1-2 (Pages: 014-029)
THE EFFECTIVENESS OF SOME SOW SPACINGS IN SOME WINTER VETCH VARIETIES GROWN FOR SEED PRODUCTION
1 Tarla Bitkileri Merkez Araştırma Enstitüsü Müdürlüğü (TARM), Ankara
-
This research was aimed at determining optimum row spacing and seed rates to extend the winter type vetch production, promote animal production and to fill the gap in feed supply in Central Anatolia. The research was carried out in research farm of the Research Centre for the Field Crops, in Haymana / İkizce, during 2001-2004.

The experimental material were Hungary vetch cv. TarmBeyazı-98 and hairy vetch cv. Munzur-98. The experimental design was as split plots with three replications. In the experiments; the main plots were row spacing and the sub-plots were seed rates. On 2 different row spacings (45 and 60 cm) and 5 different sowing norms (100, 200, 300, 400 and 500 seeds/m2) were used.

Single plot was 25 m2 ( 2.5 X 10 m). Plant height, pods/plant, stem/plant, 1000 seed weight, biomass yield, seed yield and harvest index were studied in the experiment.

In Central Anatolia, economical analysis of 3 year-data for both varieties ofTarmBeyazı-98 and Munzur-98 when they were grown for seed production indicated that the optimum row spacing was 45 cm and the seed rate was 200 seed / m2 which were equal to 7-8 kg/da seed. This row spacing facilitata interrow cultivation and enabled control of most weed. Interrow cultivation was the only method in winter vetch production for obtaining reasonable seed yield.
Keywords :

Hungary vetch, hair vetch, row spacing, seed rate, pods/plant, stem/plant, seed yield, biomass yield, plant height, 1000 seed weight, harvest index