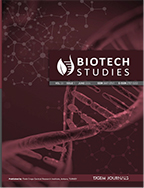 Biotech Studies
2002, Vol 11, Num, 1-2 (Pages: 042-055)
A STUDY ON DETERMINATION OF THE MORPHOLOGICAL AND THE PHENOLOGICAL FEATURES OF A CICER MILKVETCH POPULATION UNDER THE DRYLAND CONDITIONS
1 Tarla Bitkileri Merkez Araştırma Enstitüsü Müdürlüğü, Ankara
-
The objective of this research was to determine the morphological, phonological and agronomical characteristics in a Cicer Milkvetch ( Astragalus cicer L.) population in the rainfed conditions. In terms of the investigated characteristics, there was a significant variation within the population. As a result of that, the superior plants were selected, and the basic material was obtained for further stage in the breeding program. In 2001, 2002 and 2003, the experiment was carried out in the research and production station of Central Field Crops Research Institute in Haymana County of Ankara Province.

In this study, 566 plants were observed and the results were as follows; two years averages of main stem height, main stem thickness, and plant spreading area were 69,45 cm, 5,14 mm, and 106,57 cm respectively. The number of days to the first flowering time, flowering time, and pot setting time as the two years average were 73,96 days, 84,07 days, and 82,50 days respectively. The average herbage yield was 277,01 g/plant, and ranged from 40,0 g to 940,0 g.

There was a negative significant association between the estimated yield value and all of the morphological aspects, and a positive significant relation was found between the estimated yield value and all of the phenological characters. There was a significant difference between the source and selected populations in terms of all characteristics investigated, except plant erectness.

The 121 plants were selected from the source population. The new population assembled with the selected plants may be utilized as a basic material in further variety development.
Keywords :

Cicer Milkvetch, morphological and phenological characteristics, plant herbage yield, estimated yield value, source population.