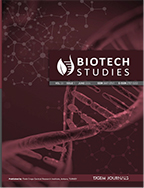 Biotech Studies
2000, Vol 9, Num, 1 (Pages: 083-090)
SOME STATISTICAL ASSESSMENTS OF DURUM WHEAT CANDIDATES FOR RELEASE
1 H. Ü. Zir. Fak. Tarla Böl. Şanlıurfa
2 G.D. Anadolu Tar. Arşt. Ens. Diyarbakır
-
Durum wheat variety registration trials were carried out during 1994/95, 95/96 and 96/97 crop growing seasons in three different locations of South Eeastern of Anatolia.

5x5 `Latin Square` experimental design was employed. Individual and combined analysis of variance of latin square trials were performed. Average yields of entries over environments were used in regression analysis. Partition of GE interactions into `Heterogenity` and `Remainder` was investigated practicing `Joint Regression Analysis. `

Results, considering other data received from experiments indicated that Daki`s` and Altar/Aos `s ` of durum wheat candidates overyielded the best standart variety of experiment.
Keywords :

Durum wheat, latin square, randomized complete block, regression, stability