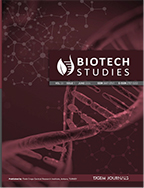 Biotech Studies
2000, Vol 9, Num, 1 (Pages: 091-098)
PERFORMANCE AND STABILITY OF SOME DURUM WHEAT CULTIVARS GROWN UNDER SUPPLEMENTARY IRRIGATED CONDITIONS IN GAP REGION
1 Harran Üniversitesi. Ziraat Fakültesi. Tarla Bitkileri Bölümü.Şanlıurfa
2 Güneydoğu Anadolu Tarımsal Araştırma Enstitüsü, Diyarbakır
-
This study aimed to investigate the performance and stability of some durum wheat cultivars grown under supplementary irrigated conditions in GAP area.

Field trials were carried out in different locations of first and second sub regions in 1989/90. 1990/91 and 1991/92 cropping seasons. Individual and combine analysis of variance were performed. G x E interactions were found to be significant in both sub regions.

Performance and stability parameters of cultivars were further investigated by regression,' stress susceptibility index, rank-sum and Si3, Si6 methods.

The results, obtained from different sources revealed that Fırat-93, Diyarbakır-81, Aydın-93 and Dicle-74 seemed to be both high yielding and stable. Sorgül, which is a landrace, turned out to be stable but low yielding cultivar. Considering quality and yield, Fırat-93, Diyarbakır-81 and Aydın-93 can be recommended to farmers in the region.
Keywords :

Durum wheat, supplementary irrigation, yield stability